What are Rich Snippets?
A Rich Snippet displays additional data such as images, star-ratings, etc. in search results. In order to get this to work, you must incorporate schema.org (in any of the following open standards: microdata, microformats or RDFa, and JSON-LD ) in your web pages. Sounds complicated? Yes, it is. At least for most people who don't know how to code.
That's why this the Rich Snippets WordPress Plugin is made for! In Version 2 no coding is needed. No single line. Just the basic knowledge of the schema syntax. Don't know how this works? I got you covered! Watch this video now.

---
What is schema.org?
"Schema.org is a collaborative, community activity with a mission to create, maintain, and promote schemas for structured data on the Internet". This is what the official website at schema.org says on its home page. The project was founded by Google, Microsoft, Yahoo and Yandex as a shared vocabulary to provide search engines and other applications with structured data.
If you add some of the so called schemas to your website, search engines will have a better understanding of the things on your sites. For example, you can tell them:
where the header is;
what the main item (like the blogpost content) is;
who the author of a blogpost is;
what topic you're writing about (like product review);
what rating you give to products and other things;
and many more.
It's nearly endless. You can find a full list of schemas on the schema.org website.

---
Is it important for SEO?
Of course it is. schema.org is out for years now and has been tested very well. So it's not a "hype" anymore. Search engines using it frequently as mentioned above:
Search Engines are showing Rich Snippets that provides more information to the end user (like images, ratings, etc.).
Google Webmaster Tools shows up structured data in its Search Console website.
So it's not a secret that using structured data has become an important ranking factor.

---
How can I add structured data?
A few years ago you would have needed at least a deep understanding of schema.org and how to add microdata to your HTML markup. Problems are:
People don't know how to add markup.
People don't know how to code.
Some markup can only be included by modifying the theme directly (that means that your theme is no longer updatable out of the box).
Theme and plugin authors rarely care about schema.org in their own products.
Sounds nearly impossible, right? But I have a solution to that:
Use the Rich Snippets WordPress Plugin today and you don't need a single line of code! Just the basic knowledge of the schema syntax. Don't know how this works? I got you covered! Watch this video now.

---
Who built it?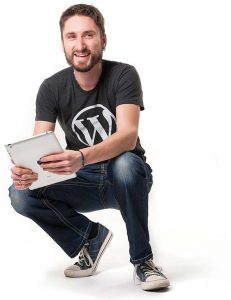 Hey there!
My name is Florian but you can call me "Flo".
I'm the developer behind the Rich Snippets Schema Plugin and do general web development for over 17 years now.
About six years ago I've specialized in doing WordPress plugins only. And as you might expect: I'm really passionate about what I do (who else can truly say that?).
Hopefully you can feel my passion in the all new Rich Snippets Plugin which is now in version 2! Yey! 🙂
This plugin will skyrocket structured data on your site! If you have any questions and/or ideas to make this plugin even better, feel free to contact me. Otherwise: Let's get started!
Any Questions?
Hey there 👋. How is it going? You can use me, the WP-Buddy Bot, to answer your pre-sales questions. Want to start?
Before we start I have to inform you (by law) that the collected data here is only used to answer your questions. All data gathered will be deleted after your questions have been answered. You can read more about this on the privacy policy page.
Restart | If you can't find what you were looking for, get in touch via E-Mail. Do not forget to send your purchase code, if possible.