Yeah, another month of Structured Data! That's great! And here are the changes that have made it into SNIP, my Structured Data Plugin for WordPress:
Import and Export
The long awaited import/export functionality finally landed in SNIP! That is so great! At the moment you can use this functionality in Global Snippets only. However I plan to extend it to single pages, posts and custom post types as well very soon.
Click here if you want to learn more about how to import and export structured data in SNIP.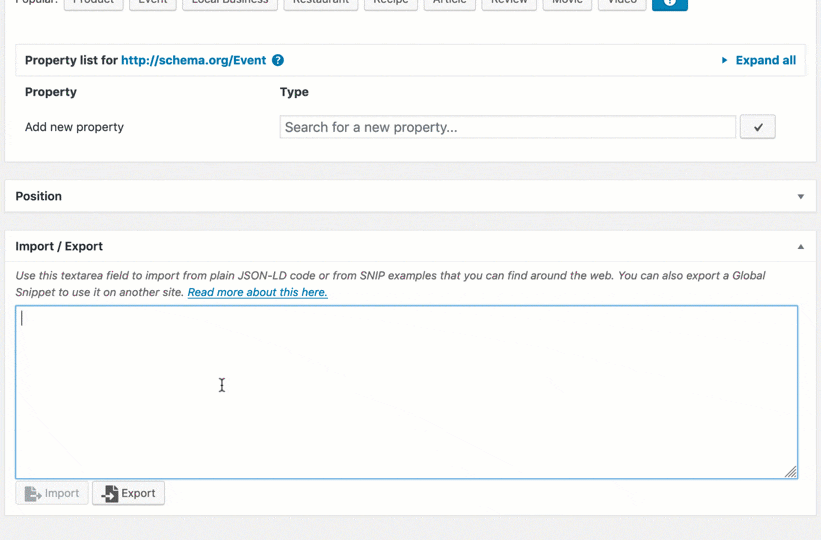 Here are the key features:
You can import from standard JSON-LD code that you can find in the wild. Of course you need to configure them the way you like it but now you just need to copy and paste! Woooaaaarrr! 💪
You can import SNIP configuration files, too. In the future I will provide more examples here on this website so that you just need to copy and paste the configuration to get your Schema up and running! Amazing! 😍
Of course you can also export a Global Snippet, now. If you use SNIP on multiple sites, just copy and paste your configurations and that's it! ⭐️⭐️⭐️⭐️⭐️
By the way! This feature was a great idea from one of my customers! Don't be shy and add your feature request (on the settings page of the plugin) as well!
Other changes
Of course there have been other fixes, too:
The training tab has been messed up by changes that were brought by WordPress 5.2
Overwriting star ratings did not work correctly. That has been fixed now.
And I've updated the language translation files.